Products
3D Systems Provides the Most Comprehensive Surgical Simulation Training for Learners of All Levels.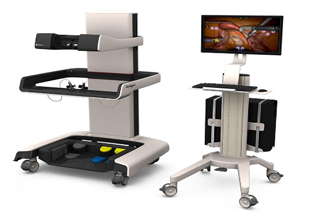 Simbionix is part of 3D Systems. Simbionix products provide a complete solution for training simulation programs
The U/S Mentor is a high-end medical simulator for the training of ultrasound-related examinations and interventions.
A model of human eye may be made of modeling clay, Styrofoam balls and acrylic paint. How you do it depends on your experience in art and craft..
The heart is a muscular organ about the size of a fist, located just behind and slightly left of the breastbone. The heart pumps blood through the network of arteries and veins called the cardiovascular system.
Sam offers all the advantages of a 3B Scientific® skeleton. With Sam, you can also demonstrate the movements of the skull via the head joints, and thanks to the fully flexible spine, you can adjust the model to place it in natural body postures. The unique combination of muscle origins and insertions, the numbered bones, flexible ligaments and flexible spine with a slipped disc between the 3rd and 4th lumbar vertebrae clearly the show medical and anatomical interest of this top model's more than 600 structures.
To train different classic surgeries on the temporal bone, for example Mastoidectomy, the PHACON Temporal Bone Patient "Schmidt" represents an anatomic highly detailed variant of an artificial specimen
The Team Training setup provides high fidelity technical practice for all participants in the procedure along with reinforcement of non-technical skills, including: enhancing communication skills...
Students investigate and learn with specialized experiments for human physiology, animal physiology, biochemistry, general biology and psychophysiology.
Based on 3D virtual interactive patients and supported by realistic physiological algorithms, the technology mimics the visual-spatial and real-time characteristics of a patient's health condition..
Since its foundation in 1948, Kyoto Kagaku has been helping medical and educational institutions by offering a wide array of unique skill training products. Today, its product line ranges from patient simulators for diagnosis and nurse training to puncture and injection models and imaging phantoms for ultrasound and radiology exam training. With its proprietary technology and materials, Kyoto Kagaku strives to fulfill the critical requirement at medical and educational front where efficient training for rapidly advancing healthcare technology is a pressing issue.
The realism of Life/form® anatomical replicas and medical training simulators is truly amazing! Extreme attention is paid to every detail – lifelike skin, natural bony landmarks, veins…even fingerprints! Life/form® products are molded from living models, or cadavers when appropriate, to ensure accuracy and well-defined features.
© Reserved 2016

Jmix Tower, 3rd Floor,
Tahliah Street, Azizyah Dist,
Post BOX: 16495, JEDDAH 21464, K.S.A.
Jeddah – Saudi Arabia

E-mail: info@mediquip.me , mediquipb@gmail.com

Telephone: +966 12 663 6167 ‐ 668 7065 ‐ 667 3224 ‐ 665 6992

Fax: +966 12 663 6867